GTA VI Could Be Announced This Week with a Trailer in December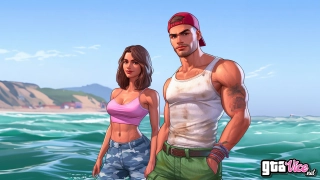 According to Bloomberg's Jason Schreier, the journalist who gave us our first confirmed GTA 6 information in July 2022, the announcement of Grand Theft Auto VI may be just days away.
Back in July 2022, a Bloomberg Article posted by Schreier suggested that GTA 6 would be set in Miami and feature a female lead character. This information was unofficially confirmed in the GTA VI leaks which followed in September 2022. Jason Schreier gained a huge amount of "insider" credibility within the GTA community for this, but it should be noted that having worked for Kotaku since 2011, he was already a hugely respected journalist on the video game scene.
In the early hours of Wednesday, November 8th, a new tweet from Jason Schreier, linking to a new Bloomberg article, suggests that Grand Theft Auto VI will be announced "as early as this week" with a trailer to follow in December to coincide with and celebrate Rockstar Games' 25th anniversary.
BREAKING: Rockstar plans to announce Grand Theft Auto VI as early as this week and will release a trailer in December, sources tell Bloomberg News. The most anticipated video game on the planet will soon be revealed: https://t.co/JhSnCSU6tV pic.twitter.com/DKAWLlqpmR

— Jason Schreier (@jasonschreier) November 8, 2023
You can read the full article below:
Rockstar Plans to Announce Much Anticipated 'Grand Theft Auto VI'
Bloomberg News
Rockstar Games, a division of Take-Two Interactive Software Inc., plans to announce the next highly anticipated Grand Theft Auto game as early as this week, according to people familiar with its plans.
The company plans to then publish a trailer for Grand Theft Auto VI next month to celebrate Rockstar's 25th anniversary, said the people, who asked to not be identified because they weren't authorized to speak publicly. A spokesperson for Rockstar didn't immediately respond to a request for comment sent after business hours.
No video game has driven more fervor from fans and investors than Grand Theft Auto VI, which is expected to be one of the most significant entertainment releases of the decade. Its predecessor, Grand Theft Auto V, has sold more than 185 million copies and is the second-best selling video game of all time, behind Minecraft, which had the advantage of also being playable on phones.

Rockstar has spent the last few years working to clean up its corporate culture and work-life balance after employees complained of burnout during the making of its last game, 2018's Red Dead Redemption 2.
Last year, hackers released hours of early footage from Grand Theft Auto VI. Rockstar blamed a "network intrusion" and said it "will properly introduce you to this next game when it is ready." Two UK teens were convicted of the hack in a London criminal trial earlier this year.
The game is set in a fictional version of Miami and features two protagonists, a man and a woman, Bloomberg News has reported.
Take-Two is scheduled to report earnings on Wednesday.
The footnote is also interesting as Take-Two Interactive will report it's earnings for the final time in 2023 later today. So far, investors have seen no evidence of a predicted huge increase in revenue in 2024, but we all know a GTA VI reveal would change everything and set the gaming world on fire.
Personally, I think it would be a nice touch if the trailer we see in December shows footage from all of the incredible things Rockstar Games have created in the past 25 years, ending with a short teaser of what's next with GTA 6, but it's entirely possible we could see a stand-alone trailer specifically for GTA VI. Either way, if Rockstar Games are almost ready to show off the next game in the GTA series, it's likely we're only 12 to 18 months away from its release.
What do you think? Will we see GTA VI officially announced as early as this week? Can we expect a trailer in December? Will the game launch before 2025? Let us know in the comments below or on our custom crafted GTA 6 Forums.
This article has been viewed 841 times. Thanks for your support!