Huge GTA VI Leak Confirms Vice City Setting, Plus Male And Female Protagonists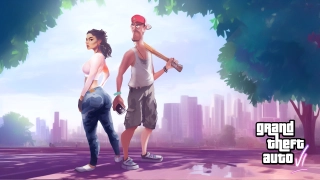 A large number of GTA VI development videos were leaked today, following an apparent hack on Rockstar Games. They confirm a modern-day Vice City setting with male and female protagonists named Jason and Lucia.
A large number of GTA VI development videos were seemingly obtained by a hacker which show off some of the new features being tested by the developers. Within the footage were numerous references to Vice City and surrounding areas. Two playable characters were seen working together during a hold up at Hanks Waffles - a Caucasian male named Jason and a Latina female named Lucia. This would seem to back up the "Bonnie and Clyde" inspired story that was previously mentioned in the
Bloomberg article
.
Jason Schreier
, a journalist at Bloomberg with involvement in the aforementioned article used his sources to confirm the leak was in fact real.
Not that there was much doubt, but I've confirmed with Rockstar sources that this weekend's massive Grand Theft Auto VI leak is indeed real. The footage is early and unfinished, of course. This is one of the biggest leaks in video game history and a nightmare for Rockstar Games

— Jason Schreier (@jasonschreier) September 18, 2022
The game appears to have a modern setting and takes place at some time around or just after the story of Grand Theft Auto V, with references made to Life Invader CEO Jay Norris who is killed by Michael during the early story in Los Santos.
Take-Two interactive have been working hard to remove all evidence of the leaks from the internet, but given the enormity of this leak, something completely unprecedented in Rockstar's history, videos and images are popping up all over the web and it's unlikely they'll ever disappear completely. Out of respect for the developers we will not display any of this footage or imagery on our website, but it's certainly made us excited to see what comes next when Rockstar Games are finally ready to show off what has been almost a decade in the making.
This article has been viewed 844 times. Thanks for your support!