Rockstar Games Reportedly Furious About Trailer Announcement Leak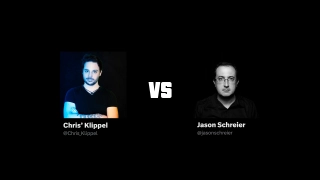 According to Rockstar_Mag creator Chris' Klippel, Rockstar Games' boss Sam Houser is furious that their planned reveal for the game was leaked before their official announcement.
In a series of tweets posted in his native French which we have translated, Chris Klippel states the following:
The announcement for "the next GTA" was scheduled for later this week - likely this weekend.
Sam Houser's statement on Wednesday was rushed out to counter Jason Schreier's article.
The situation is tense at Rockstar Games with an internal investigation ongoing to discover the source of the leaks.
Anyone caught distributing confidential information will be prosecuted by Take-Two Interactive.
Chris' Klippel on Twitter
English Translation
I just had information about the announcement of the trailer for "the next GTA". I can now confirm that the announcement was indeed planned for this week (it was never planned for October), and that the series of tweets on Wednesday is not at all what was initially planned. Sam Houser's press release published on the Rockstar website and all networks were published to quickly counter the Jason Schreier leak, as was done in September 2022 to "confirm" the leaks.
Basically, the real announcement was supposed to be made later in the week with a real announcement. I was able to confirm that the situation is quite tense at Rockstar with Sam Houser and Strauss Zelnick furious about the leak. The two men announced that an internal investigation will be set up to find out who Jason Schreier's informant is. Sam Houser and Strauss Zelnick also indicated that anyone caught distributing confidential information will be severely prosecuted by Take Two Interactive for non-compliance with NDA.
How sad to see the announcement of the most anticipated game in history be spoiled like this...
These reports have been directly denied by Jason Schreier himself who got into a bit of a spat with Chris on Twitter:
Jason Schreier & Chris Klippel
Twitter Discussion
Jason Schreier:
None of this is true. They had always planned to do it this way and did not change their announcement plan because of our story

And it looks like you've been falsely tweeting for years that the announcement was imminent, so it's pretty funny that you'd make some stuff up try to rile people up against me
Chris' Klippel:
If you say so. And I can understand you saying that. But the information I've been given is hard to dispute. We'd be delighted to discuss this privately.
Jason Schreier:
You had plenty of time to contact me privately before sending out these tweets! Was this one also hard to dispute? Come on, dude (referencing a vague tweet Chris posted in May about a new project announcement by Rockstar)
Chris' Klippel:
Again Jason, at what point does this tweet mention GTA 6? Why so much animosity? 🤔
Jason Schreier:
Well, it's one thing for marketers to complain about my reporting - it's another to say things like "How sad to see the announcement of the most anticipated game in history be spoiled like this" when you've spent years tweeting vague teases to try to do the same thing yourself
Chris' Klippel:
So I don't think I've ever spoiled Rockstar's plans by publicly revealing their plan hours or days before it was due to happen.

I'm sorry if you don't like my final message, but yes, it's disappointing. We would have liked to have heard Rockstar's surprise.
Jason Schreier:
There's something fundamentally fucked up about another reporter thinking that reporting news is "spoiling marketing plans." But, yes, true - every time you've said an announcement was coming, you've been wrong. Can't "spoil Rockstar's plans" if you don't know them
Chris' Klippel:
Once again, I think you've mistranslated my posts. Because, at no time did I tweet or say on video that a GTA 6 announcement was going to be made. Even last month with the October 26 rumor, I kept saying that date was probably fake. It's all going round in circles.

You managed to get a piece of information, and you shared it, that's normal, that's your job. We agree. But from another point of view, it necessarily spoils Rockstar's plans. How can you disagree with that?

It wouldn't have spoiled Rockstar's plans if you'd gotten the information directly from Rockstar and Rockstar had authorized you to share it. True?
Jason then posted a separate Tweet to prove Rockstar Games had always planned to announce the trailer before Take-Two's earning report later on Wednesday.
Jason Schreier
Via Twitter
For outside observers who might be wondering who to believe, I'll offer some evidence. The announcement happened at exactly 8am ET on the day of Take-Two's earnings call, and was then mentioned in the earnings briefing, which is prepared *way* in advance. See here: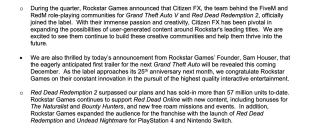 Either way, it's incredibly sad for Rockstar Games to suffer yet another leak and spoil the surprise for millions of fans, but with 165 million views and over 1.5 million likes on their tweet announcing the trailer, it doesn't seem to have affected fans' excitement for the new game too much.
This article has been viewed 499 times. Thanks for your support!