Rapper 50 Cent Posts Vice City Logo in a Teaser For His Upcoming Business Ventures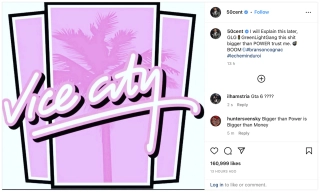 In a cryptic tweet, rapper, actor and businessman 50 Cent posted the Vice City logo stating he'd explain it later... A hint at his involvement in GTA VI or simply just for publicity?
In a tweet and instagram post late on March 1st, 50 Cent lead many to believe it was a hint at his involvement in Grand Theft Auto VI. Sadly for GTA fans, it seems most likely that it's just to generate publicity for one of his upcoming business ventures, with fans speculating it could be any of:
A new live show in Miami featuring his fellow 'Green Light Gang' rappers
A TV show or movie he's working on called Vice City
A new album or song he'll name Vice City
An actual hint at his involvement in GTA VI, whether voice work, writing or producing music for the game
Update - March 4th, 2023
After posting another Vice City logo on Instagram, 50 Cent finally deleted both posts. Either he is actually involved in GTA VI and is now in trouble with Take-Two for breaching his Non-Disclosure Agreement (NDA) or he's just in trouble with Take-Two for using their logo... Either way, we still don't know why he posted it in the first place.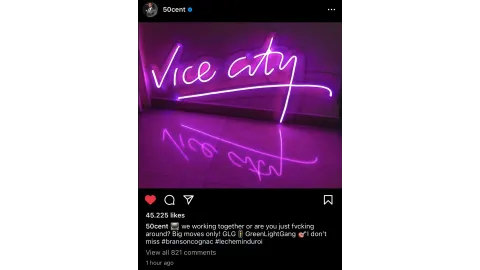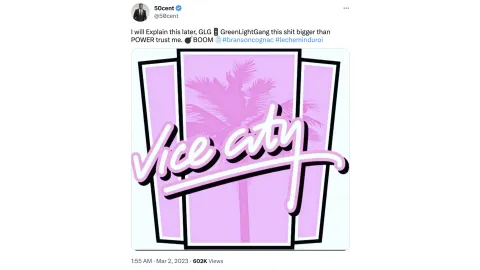 NME: 50 Cent shares stacked line-up for 'Green Light Gang' Malta experience
I will Explain this later, GLG🚦GreenLightGang this shit bigger than POWER trust me. 💣BOOM💨 #bransoncognac #lecheminduroi


Music website NME posted information about Green Light Gang back in June 2022 where 50 Cent confirmed Akon, Fat Joe, and Trina would perform at his 'Green Light Gang' entertainment experience in Malta, so it's likely this could be something similar but set in Miami.
NME: 50 Cent shares stacked line-up for 'Green Light Gang' Malta experience
Heartless Crew, Jeremih, DJ Premier, Remy Ma, and So Solid Crew are also among those slated to perform alongside the G-Unit head honcho, who will headline the event, which takes place September 22 – 26.

Teaming up with travel, music, and technology company Pollen, 50 has curated a series of events on the Mediterranean island. The four-day, four-night festival will include after-dark parties, cruises, and an outdoor cinema for screenings of the rapper's hit STARZ TV series Power.

"Turning up the heat, bringing OGs to #GreenLightGangMalta," the rapper shared in a tweet which included the list of performers and a video announcement.

"What's up Malta it's your boy 50 cent," he said in the video. "The Green Light gang is coming to your town we're going to take over from September 22 to the 26, I'm talking about morning noon and night. I'm talking about the beaches I'm talking about cruises, I'm talking about live screenings of 'Power'."

50 Cent continued: "All-star hip-hop and R&B line-up, DJs, after parties, it's going to be crazy. And, of course, that last night imma do my thing, so you already know what's going down."

In other 50 news, he recently revealed that the Snoop Dogg TV series he was working on is no longer in production due to the network dropping "the damn ball".

The pair announced last December that they would be teaming up on A Moment In Time: Murder Was The Case, an anthology series focusing on the criminal events that occur behind the scenes of hip-hop history.

We're pretty confident 50 Cent is simply jumping on the publicity of Grand Theft Auto and using Vice City's reknowned likeness of Miami with his tweet for an upcoming event in Florida, but who knows. Rockstar regularly use the voice talents of rappers in their games but it's unlikely Take-Two Interactive will be impressed if he's using their logo to promote his own business ventures. Hopefully we'll find out more soon.
Would you like to see or hear 50 Cent in Grand Theft Auto VI?
This article has been viewed 1074 times. Thanks for your support!