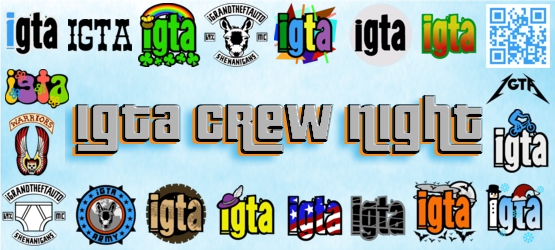 SHENANIGANS 4 LYFE
---
We are meeting the last Monday of each month for playists, jobs and shenanigans. This is an open thread to post photos and make plans!
---
Crew Rules for posterity:
*Join the iGTAGTAVice.net forums to be eligible for an invitation to the Social Club Crew.
* Add crew staff on the Playstation Network to get invited to GTAO lobbies. PSN Names are underneath our forum avatars, along with Social Club, Twitter, etc.
* Join anytime, the earlier the better. We start in a crew lobby, join via friends list or party chat. If you can't get in, ask for an invite, sometimes we end up in an invite-only after jobs. We round everyone up and send out fresh invites after each playlist.
* If there's an "EVENT THEME", please dress appropriately.
* NO CREW KILLING, unless #shenanigans happen or agreed upon. You're not in a public lobby, so save it for when you are.
* NO DIRTY RACING! A number of our jobs have specific rules, so pay attention, read the description, and listen to the creator's instructions.
* NO BULLET-PROOF HELMETS, SNACKS or GOING OFF-RADAR during competitive playlists. For GTA races, use pickups only (rockets, boost), no thrown explosives or drivebys.
* Don't ruin photo or video setups. No getting a 4-star wanted level when someone's staging a shot. Just don't.
Theme list for posterity:
Vehicle-based
Altitude | Apocalypse | Brand Expo | BMX | Classic/Vintage | Crotch Rockets | Drift | Forgot-I-Had-This | Hot Rods | Hotring Circuit | Junker | Lowriders | MC | Military | Monster Truck | Motocross | Muscle | Off-Road | Rally | Stunt | Supercars | Truckers | Tuners | Utility | Watercraft
Thread-based
80's | Animals: Altitude/Dapper/Dirty/Party/MC | Beach Bums | Bums | Business | Clowns | Cowboys | Crew Blue | Emergency Services | FIB | GTA Characters | Gangs | Hell | Hippy | Imposter | Ninjas | Pimps & Hoes | Pirates | Punk | Rockabilly | Rock & Roll | Safari | Scuba | Steampunk | Toga | Underpants Party | Vinewood | Warriors | Waterworld | Wrestling | Zombies
Calendar-based
New Year's | Valentine's Day | St. Patrick's Day | Cinco de Mayo | Memorial Day | Freedom | Labor Day | Halloween | Festive Surprise | Olympics
Themes. It's what we (used to) do.